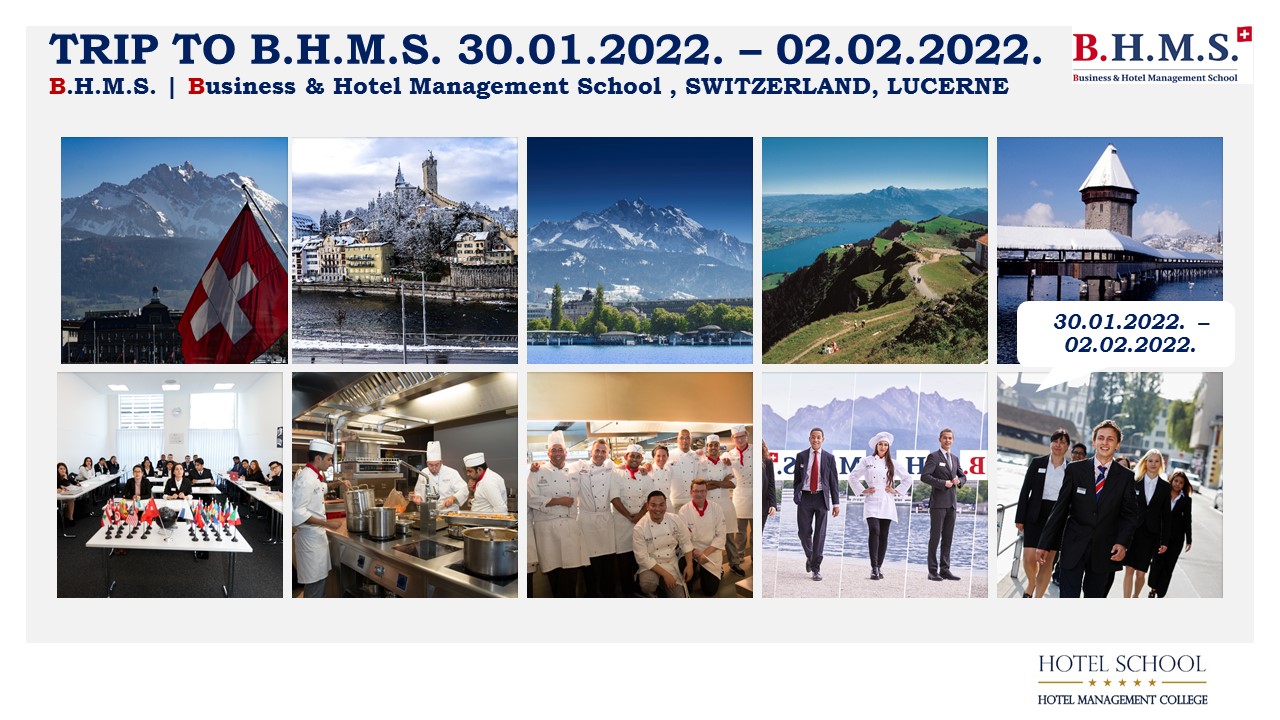 Dear Students and Graduates,
TRIP TO B.H.M.S., SWITZERLAND JANUARY 30, 2022 – FEBRUARY 02, 2022
ALL OUR PROGRAMMES' STUDENTS AND GRADUATES ARE INVITED!
Our great partner B.H.M.S. Business and Hotel Management School, Lucerne, Switzerland, kindly invited HOTEL SCHOOL Hotel Management College students to attend the lectures, receive the certificate, get acquainted with the facilities and visit the sites around in Switzerland. After this trip it is possible to get a recommendation letter and an additional discount for further studies at top-up degree, continuation of the studies after graduation from HOTEL SCHOOL Hotel Management College.
Our partners kindly arrange meal and accommodation for the guest students, what you need to arrange yourself – to buy the flight tickets.
Time: departure Sunday January 30, 2022, flight Airbaltic Riga – Zurich, arrival February 02, 2022 flight Airbaltic Zurich – Riga.
Then we will get from Zurich to Lucerne City.
Hurry up, the flight tickets may get expensive, and the number of the places is strictly limited for this trip.
We recommend to take the tickets with flexible dates as Covid-19 restrictions may change the situations.  
You need to check your passport and requirements for entering Switzerland, and arrange a valid Covid 19 certificate, valid for the EU.
DON'T MISS THAT KIND INVITATION FROM B.H.M.S.,

And enjoy the beauty of the winter in Switzerland and nice time with your groupmates!
Several of our previous year students already have visited the BHMS with us, and continue their studies at BHMS!
Check additional information in the attached file!
Happy New Year!
Your HOTEL SCHOOL Hotel Management College