Dear Colleagues, Students, Graduates!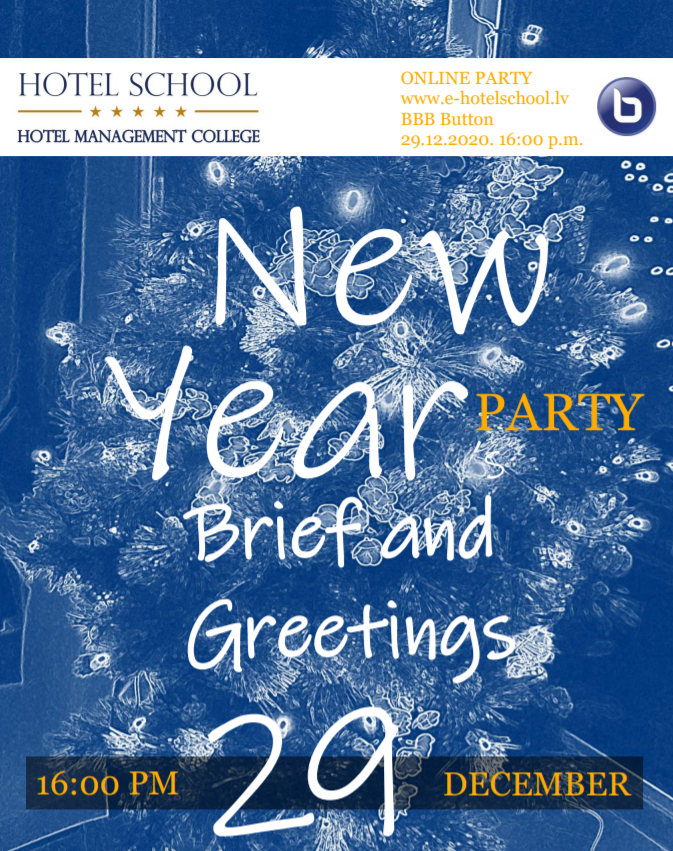 We kindly invite you all to our online 'Winter Season's Brief and Greetings' Event – New Year Party on 29.12.2020. at 16:00. We will be happy to see you!  Please join!
We will share some reviews and positive tunes from our homes. Dress Code: festive, home-festive ))
Both options are acceptable: prepare your New Year celebration story in advance, any greeting, any talent show and send it to us by 28.12.2020. 11:00 a.m.: administration and academic staff – Julija Pasnaka julja@hotelschool.lv, Olga Zvereva olga@hotelschool.lv, email for students: Yury Kireev (HS SP President), yury.81518@gmail.com.
Also join directly online (supposed with camera and sound, but it is possible to attend also muted).
Atmosphere: festive, comfortable, flexible, positive, connecting, elegant.  
The link for joining (section Online Conferences): https://e-hotelschool.lv/mod/bigbluebuttonbn/view.php?id=20239
The link to the programme and timing: https://e-hotelschool.lv/mod/resource/view.php?id=20254