HOTEL SCHOOL invites everyone to a Christmas party "Vivid Colours - Vivid Life!" 
Music, welcome drinks, snacks, entertainment and more! 🎁🎄🧨⚡
Don't forget to wear colour - luscious pink, electric blue, bright orange, frosty silver, vivid green, vampy red and all the others!
RSVP
To all party goers, please submit your attendance by pressing Going√ on Facebook event page!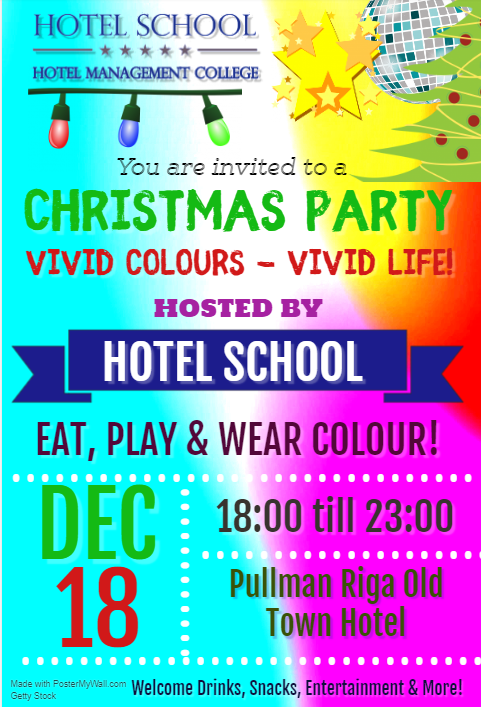 Labdien,
Ielūdzam Jūs uz HOTEL SCHOOL Viesnīcu biznesa koledžas Ziemassvētku pasākumu "Vivid Colours - Vivid Life!", Pullman Riga Old Town Hotel, šī gada 18.decembrī, no plkst.18:00-23:00.
Būs mūzika, uzkodas, dzērieni, izklaides un daudz kas cits!
Neaizmirstiet savā apģērbā iekļaut krāsās - sulīgi rozā, elektriski zilu, koši oranžu, sudrabainu, spilgti zaļu, trakoti sarkanu vai citas košas krāsas!
Par Jūsu ierašanos lūgums atzīmēt Going (V) šeit -
https://www.facebook.com/events/1452736598225653/
Pasākuma sākums - plkst.19:00, ierašanās no plkst.18:00. Uz tikšanos!